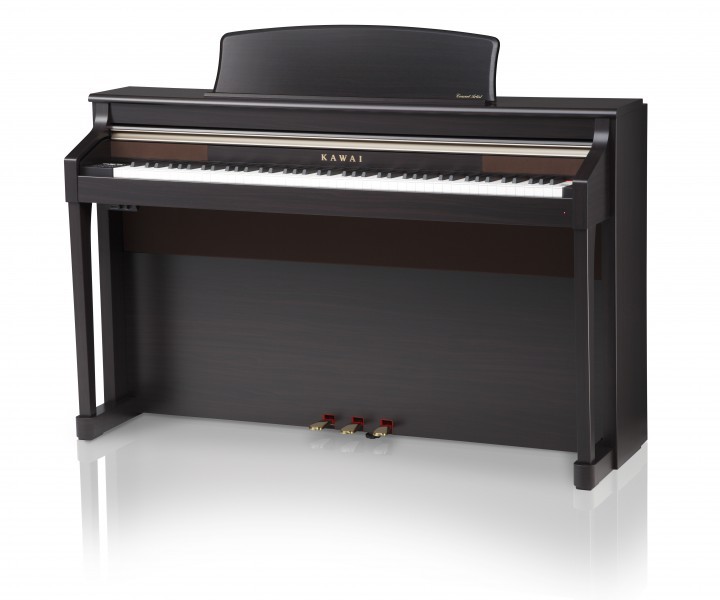 Click here to see similar items on eBay, and to buy.
KAWAI CA95 Digital Piano, Rosewood FinishIn warranty till March 2019, great condition!
This is simply THE BEST action you will find in a digital piano at a price when it is still logical to go for a new digital rather than simply buying a second hand acoustic and adding a silent system if this feature is really needed. For me that limit is 2,500- 3,000 new. More than that, put your money in a good second hand acoustic, full stop. This cost just over 2,300 new, so as you can imagine it is not a toy but an excellent alternative to an acoustic for the many people who simply cannot have an acoustic (flats, noise, cost, movings…)
I spent several months looking for the best digital action, and Kawai has proved to produce the best action in digitals, followed by the new Rolands (not the previous line, the action was far too noisy and distracting) and then Yamaha. Yep, that is the order, Yamaha simply invest more in publicity and sell in more shops so people do not bother to try different brands by themselves, but reality is that they have models with 10 years old actions! Kawai is constantly investing and developing actions, which is the bit one cannot change at all and what gives the feeling of learning and playing a real good acoustic so that the change to the real thing for lessons, auditions, exams or upgrades is easier. I took my teacher for the last test comparing high end piano from these brands before buying it, and she was impressed, to the point that she herself later got one to play during late hours as she did not want to install a silent system in her precious grand.
I bought it in March 2014, with 5 years warranty, so it is still under warranty till March 2019, through me as contact point. I have never had any issue, I take my instrument seriously and it has never been close to food or liquids. I close the lid when not in use, and I even bought a felt key cover for extra protection. I also disconnect the power when I am not playing, which many people do not do, and they risk burning the transformer. It is in great condition with just the normal small marks that you get from buying second hand at a reduced price. I am a very careful proud owner of a high quality digital piano, and I am only selling it because we now live in a house where I can have an acoustic.
I am an adult beginner and I have a job, so I have only been able to use it about one hour per day, a bit more on weekends and holidays. This is almost no use at all for this high end digital. You can have a look at some practice recordings at my YT channel, look for evamar piano. Please do not judge my poor playing but the obvious fact that this piano has had a very light use. For better players, just look for Kawai CA95 demos.
https://www.youtube.com/watch?v=0KZknBsQ0ZQ
You have all the specs here http://www.kawai.co.uk/products/archive/ca95/  with SOUND SAMPLES
At this level you expect things such as a great grand piano sound or huge polyphony and number of sounds, and it has all of them. To summarise the fantastic specs, these are the points that put this piano on top of others: – REAL WOODEN KEYS (not just the top as Ronald or Yamaha), – GRAND PIANO FEEL ACTION (this means that the wooden keys are very long and the pivot is located so that the action feels like that of a grand piano, not an upright), 3 sensor system with let-off like real pianos, and something amazing: – A SOUND BOARD which vibrates and gives the player the real feel of a real piano as well as contributing to a more real sound. – GREAT SPEAKERS, with 2 extra frontal ones to improve the player's experience. – Then the convenience of being able to record directly on a memory stick, in .wav or .mp3 formats, – AND something that, like the soundboard, other competitors and models do not have: the ABILITY TO ADJUST EVERY SINGLE NOTE. Yes, Kawai does that, if you have a very sensitive musical ear, you can adjust each note with many variables.
The GF action for the x5 models is a HUGE LEAP from the previous ones, so do not be fooled by cheaper previous CA models, x1 and x3, the action is MUCH inferior than the x5 series. You want something good to cover all your grades if you cannot have an acoustic for the time being or for the foreseeable future. I actually considered changing it for the newer versions of this model, but at the end of the day and after quite a lot of research and tests in person, I realised that the CA97 had minimal changes in the action and a few added piano sounds, so not enough improvements to justify the cost, and the newer CA98 still has kept the very same action and improved the speaker system, which is already very good in mine. So there you have, the most important thing, the action, is still the same i the newer models, you can research every single bit that I am saying here. For the new lines they simply changed the material of the black keys and the weighting material, a few more sounds and improved speakers, when the originals are already powerful enough and together with the resonance of the sound board the playing experience is amazing. Not enough for me to justify the added cost, but it you want the improvements then brace yourself for the price and buy new.
Here you have a great digital piano which can cover all levels as a serious alternative to an acoustic, with very little use and in great condition.Kawai manual and sheet music books included. I will also include several sheet music books for all levels in several styles as well as a huge collection of music .pdf files of all levels and styles in a memory stick so that you can print what you want to learn. If you are interested in a particular style/level please let me know and I will do my best. 
Over 80Kg, on a ground floor. 2 strong people needed, we cannot help, and the piano can only be moved after inspection and payment.
If you are to collect, I seriously advice you to hire a van with a lift, as otherwise chances are that you will damage it.  CASH ON COLLECTION OR BANK TRANSFER IN ADVANCE ONLY.
Please no time wasters. You can try the new range in many shops, the feeling is almost identical as explained but you will save many hundreds if buying mine. Serious buyers only can try it and reserve it for 100 towards the full price, to be lost if they fail their word and not complete within a couple weeks. First to try will surely buy it. I need to sell it in order to have the space for an acoustic, but I am in no hurry or pressure to sell.
NN1 5LU, Northampton.
Click here to buy, and to see similar items on eBay
---
Category: Musical Instruments:Keyboards and Pianos:Pianos:Digital Pianos
Location: Northampton