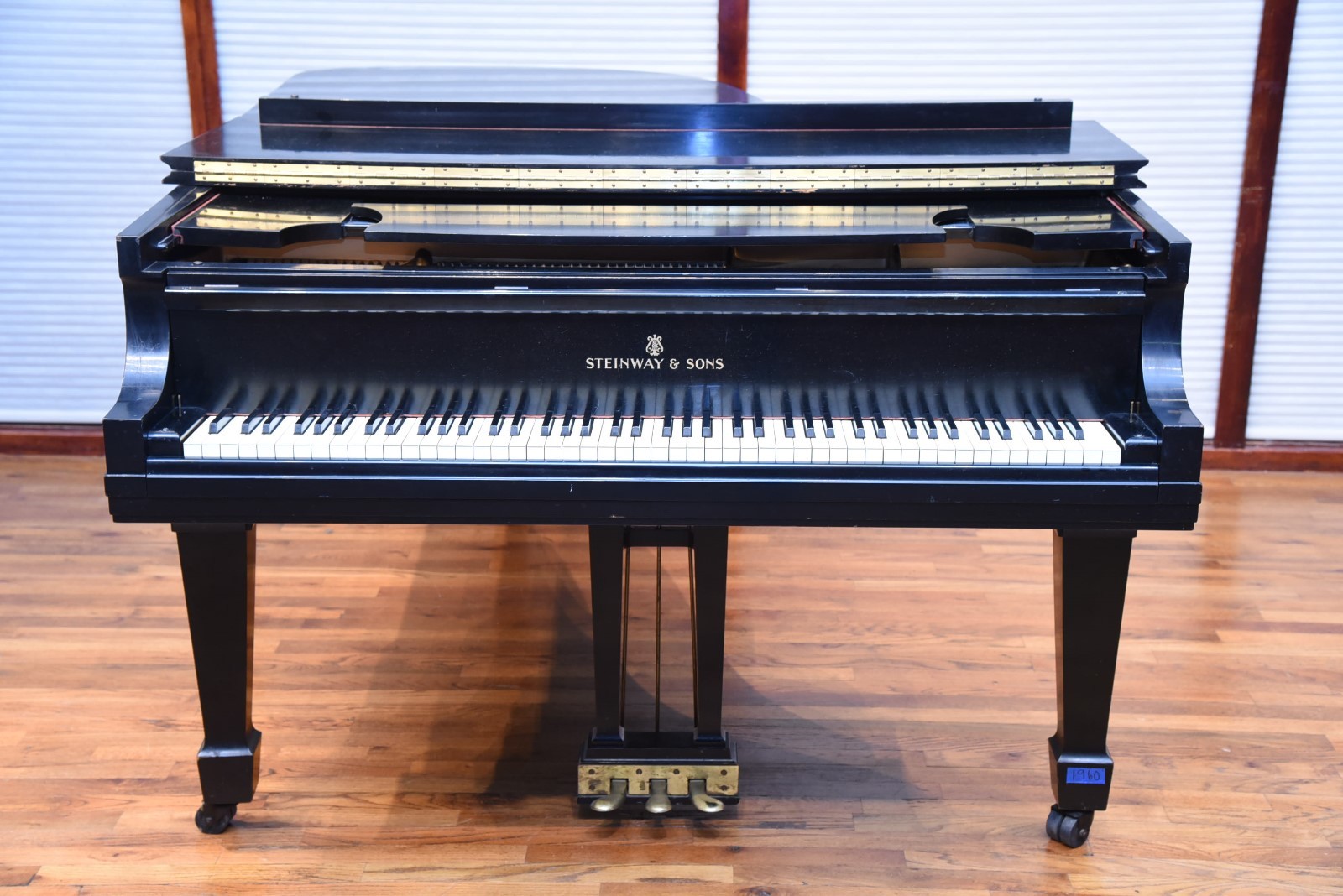 Click here to see similar items on eBay, and to buy.
Steinway Grand Piano Model  B  1960
I wanted to bring to the market a Great Value for the Musician and Pianist. 
This 1960 has a lot of power. This Steinway has a lot of years let in it. The case is rough, but at this price you are buying a Great Steinway. At the listed Price I will have my Master Technicians bring this piano to a Level 2, about 22 hours of service.
Hammers have a lot of felt left on them. Near Perfect Soundboard.
At some point you would replace the Strings but the Block is perfect so you could use the same block to restring the piano. 
Hammers should last about 15,000 hours of regular (not heavy but regular) play. 
If a dealer rebuilt this piano they would sell it for $55 to 65. The Steinway Dealer in our area is selling a Rebuilt 1968 for $88,500 and then discounts it to 68,700. REALLY ??
For the listed price you will agree that this is a great value. I usually have 19 to 25 Steinway B's available. 
I know I have one for you.
Reach out to me on this one or any of the other ones I have
All Original Steinway Parts
This piano is being offered as an Original Condition Steinway 1960 Model.
No Teflon.  
You can rebuild to any level and you can refinish. 
Great Soundboard
So much you can do with this piano. That is why we have kept the price low.
"Maestro" Bruno is available to answer your questions
the serial number for this piano is in the 369000 series 1960 Original Condition 
The benefits of doing business with Concert Pianos
#1 Steinway re-seller on Ebay
43 Years Selling Steinway Grand's
Pianist and Steinway B Guru
Owned Steinway B's since 1976
Prices that are 15% to 25% below Steinway Dealers Prices
25 Steinway B's in stock most all of the time
2 Steinway Selection Centers
Private 1 to 2 Day time to choose your Steinway Grand
Real Concert Technicians that create the best Steinway Grand's that you have ever experienced
Very low International Overnight Shipping Rates via Air not water.
95% of the Steinway's that you will play are serviced to a "De Capa" level. Experience what a Steinway Grand can really sound like
when it is service by a True Concert Technician. (ask how to tell the difference)
Included in the Price
Insured Delivery (80% of the movers in the US do not carry full value insurance
6 month Limited Parts and Labor Warranty.
Concert pianos carries $120,000 in Transit, Cargo Insurance and our movers also have insurance
Caster Cups
White Gloves
Pedal Covers
Lifetime Trade in Value toward and other Steinway Grand that we have in stock that is over $5K more than what you paid for your piano.
1 to 7 Year Financing OAC
When you research Concertpianos you will find out why Maestro Bruno has sold over $50,000,000 in Steinway New and used over his career.
Concertpianos is a Red Bird LLC company
Main showroom is in Bowie, Texas
Also research "Maestro" Bruno
Trust the Expert when it comes to purchasing a Steinway B
Thank you,
Maestro Bruno
Click here to buy, and to see similar items on eBay
---
Category: Musical Instruments and Gear:Pianos, Keyboards and Organs:Pianos:Grand and Baby Grand Pianos
Location: Bowie, Texas