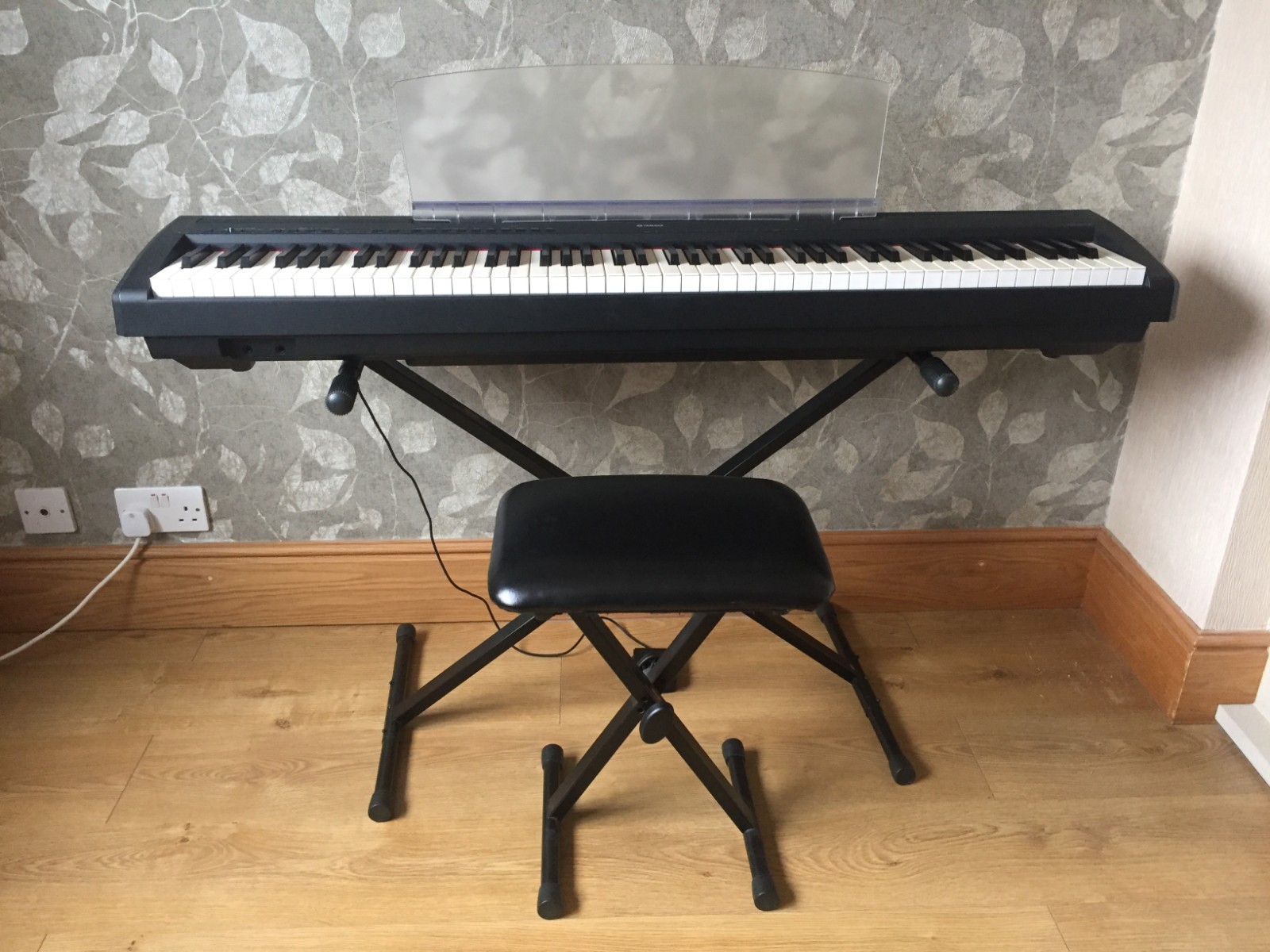 Click here to see similar items on eBay, and to buy.
A Yamaha P95 Digital Piano with a Yamaha sustain pedal, Yamaha music rest, Stagg stand, Stagg stool, Keybags carry case, manual & power adapter.
This is in an excellent condition and has been used by my daughter to practice for exams.
We have recently upgraded hence the sale of the full kit listed above. The original box is included. – This would make an ideal Christmas present.
Collection Only (will not ship)
Specification
Compact and Stylish design. Authentic piano feel with GHS keyboard, and AWM stereo sampled voices.Graded Hammer Standard (GHS) keyboardCompact and Stylish DesignAdvanced Wave Memory (AWM) Stereo SamplingNew Built-in Stereo Speaker System1-track song recorderThe P95 gives musicians the dynamic, high-quality sound and natural piano touch response they expect from Yamaha, along with a high-quality built-in speaker system are packed slim, exceptionally affordable instrument that's always ready to play when you are. No compromises, Yamaha quality.FeaturesGraded Hammer Standard (GHS) KeyboardJust as on a traditional acoustic piano, the keys of the lower notes have a heavier touch, while the higher ones are more responsive to lighter playing.Compact, Stylish DesignThe attractive, slim, lightweight design of the instrument -less than 12 kg- suits virtually any interior decor, and occupies less space than most coffee tables. No piano movers required.Advanced Wave Memory (AWM) Stereo SamplingThe AWM (Advanced Wave Memory) is a sampling system which creates sound close to that of an acoustic instrument by using digital technology to record the instrument sound and applying high-quality digital filter technology to the recorded audio samples. AWM Stereo Sampling creates a more spacious, deeper, and richer sound by using a pair of waveforms (L and R), obtained via a stereo recording process.Essential SoundsThe Yamaha P95 features an array of commonly used sounds such as grand pianos, electric pianos, organs, harpsichords, vibraphones, and strings. Each of these sounds has been recorded and recreated with Yamaha's unrivaled attention to detail.New Built-in Stereo Speaker SystemThis instrument uses highly efficient amplifiers that pack more sound into a lighter digital piano. With 6 watts per channel, these keyboards are ready to go whenever you are.50 Preset Piano SongsA selection of 50 different piano songs is provided for your listening pleasure. These recordings were chosen for their beauty as well as their functionality. Since many of the songs are classic piano pieces, anyone taking lessons can listen to them for reference.
Yamaha P95 portable piano SpecsSize/WeightDimensions  Width1,326mm (52-3/16\")Height151.5mm (5-15/16\")Depth295mm (11-5/8\")WeightWeight12.0kg (26 lbs., 7 oz.)Control InterfaceKeyboardNumber of Keys88TypeGraded Hammer Standard (GHS) KeyboardTouch SensitivityHard/Medium/Soft/FixedPanelLanguageEnglishVoicesTone GenerationTone Generating TechnologyAWM Stereo SamplingPolyphonyNumber of Polyphony (Max.)64PresetNumber of Voices10EffectsTypesReverbyesFunctionsDual/LayersyesSongsPresetNumber of Preset Songs50RecordingNumber of Songs1Number of Tracks1Data Capacity65KB (ca. 11,000 notes) for User SongRecording FunctionyesCompatible Data FormatPlaybackOriginal FormatRecordingOriginal FormatFunctionsOverall ControlsMetronomeyesTempo Range32 – 280Transpose-6 to 0, 0 to +6TuningyesStorage and ConnectivityStorageInternal Memory65KB for User SongConnectivityDC INDC IN 12VHeadphonesx 2Sustain PedalyesPedal Unityes (Optional)
Click here to buy, and to see similar items on eBay
---
Category: Musical Instruments:Keyboards and Pianos:Pianos:Digital Pianos
Location: Euxton, Chorley