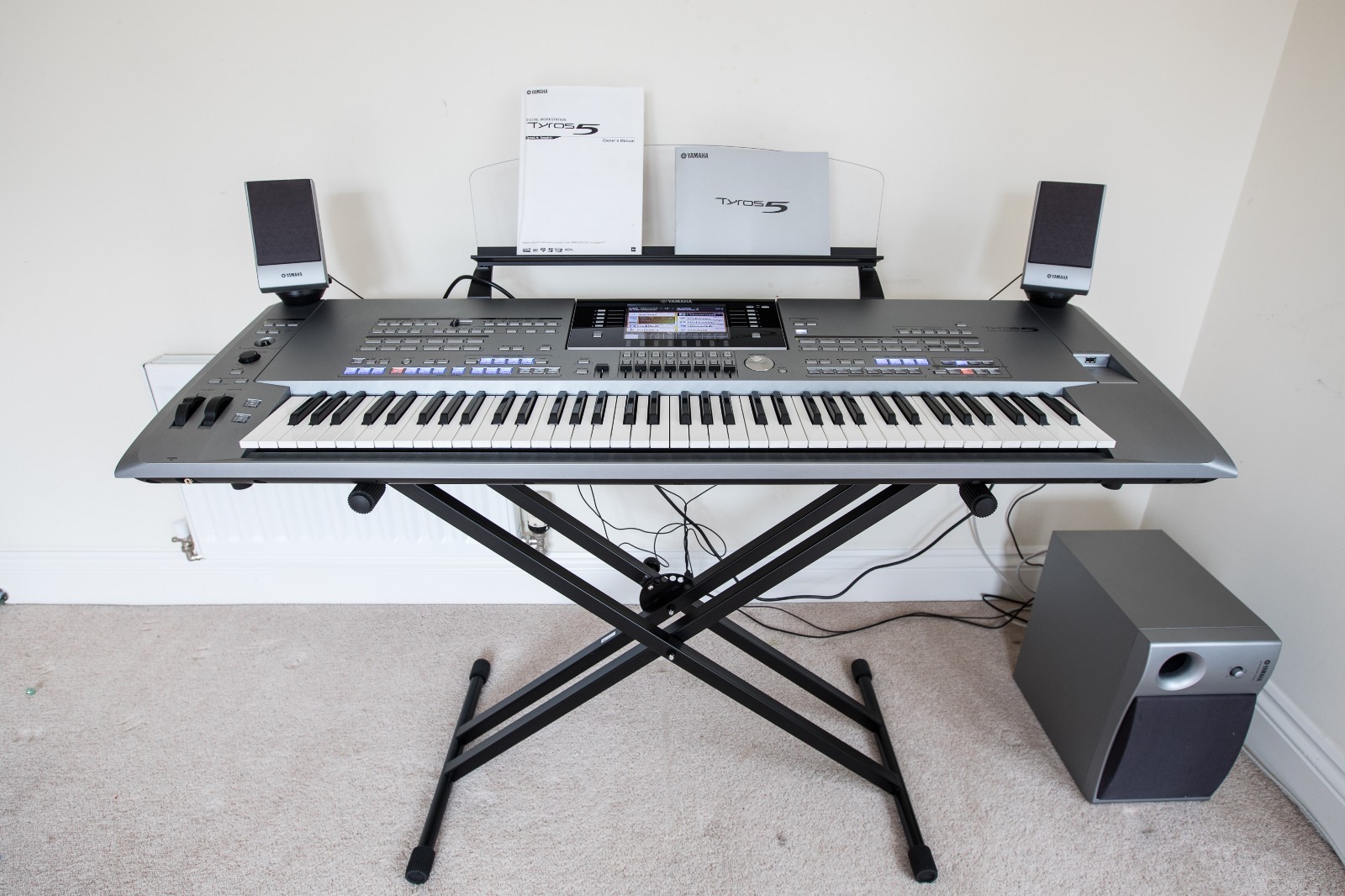 Click here to see similar items on eBay, and to buy.
Yamaha Tyros 5 in 76 keys + MS05 speakers, yamaha dust cover for the keyboard and speakers, music rest, keyboard stand, USB wireless LAN adapter, all in showroom mint condition
This beautiful keyboard is in fantastic showroom condition, despite being home used for Christmas occasions.
It has been well looked after, no marks, scratches, dents whatsoever and it comes from a smoke free, pets free home.
The keyboard comes with :1. power supply2. sheet music rest3. MS05 speaker set: x1 subwoofer, x2 monitor speakers4. yamaha tyros 5 dust cover set for the keyboard and speakers5. stand for the keyboard6. USB wireless LAN adapter7. manual
Local collection only from Mansfield, Nottinghamshire, near M1 Junction 27 and 28.
Buy with confidence, I have 100% positive feedback!
Cash on collection or bank transfer to be completed on collection.
Any questions please leave a message. Thanks for looking!
Yamaha pushed the boundaries of performance power with the Tyros 5. The ultimate performance machine, the Tyros 5 brings an entirely new level of authenticity and expression to your finger-tips. Open up your creative freedom wherever you need with ultimate realism you can take anywhere.Whatever your style, the Tyros 5 capabilities will far exceed expectation. There are a total of 539 backing styles built right in covering everything from traditional jazz, monster rock, cutting edge dance styles and much more including sounds and styles from small localised cultures. Each style uses Yamaha's state of the art sampling and recording techniques to bring you a level of realism previously thought unimaginable. Yamaha hired some of the hottest musicians to record phrases and parts that can now become the solid foundation of your performance.Sound detail…Instruments produce much more sound than just the desired tone and the Tyros 5 is more than capable of replicating this. Saxophone solo's can now include the player breathing, violins come with bowing and vibrato, and entire sections can be controlled with a single finger. You can even perform with 4 different instruments simultaneously, but the Tryos 5 has the power to slightly alter each voice subtly in timing and pitch to correspond with the nuances of each instrument. This makes ensembles come alive, all thanks to Yamaha's super articulation 2 technology.Organs made portable…The Tyros 5 may be lightweight at 14Kg but the classic, unmistakable tones of your favourite organs are all there. Organ world is a complete section dedicated to recreating everything from those dirty and driving rock organs, right through to traditional organs found in theatres and churches. The comprehensive set of realistic controls along with the inspirational organ models mean even the most ardent of organ enthusiasts will be impressed by the Tyros 5.Virtual modelling technology…Yamaha has included its top of the line virtual modelling technology usually found on their high-end mixers, right there in the Tyros 5. Whether performing live or in the studio, you now have access to a power or effects never before realised. A full range of customisable virtual guitar effects pedals are built in and are completely adjustable. The other 60 built in effects types including 23 comprehensive vocal effects will add a layer of depth and polish that will blow you away.
Comprehensive control…The top panel of the Tyros 5 puts everything at the players immediate reach. The adjustable bright LCD screen and relevant controls sit in the centre of the panel and displays clear and concise information. All buttons and controllers are laid out clearly and maintain a clean look without limiting your access to the workings of the Tyros 5. In equal measure, the Tyros 5 offers unbeatable connectivity, Everything from comprehensive audio paths to USB and RGB is covered. There are even a set of dedicated apps for you to search and share music with other Tyros users. You can also request a song from another user to be sent to you.Expansion to suit…There are over 1200 sounds in the Tyros 5 but you have the option to add even more. Via the included wireless LAN key, you can load extra premium sound packs onto the 500GB internal hard drive. Everything from authentic eastern European instruments to pulsing grooves from Ibiza, these expansion packs add massive sonic range to your already very capable Tyros 5.A whole new animal…To complete the astonishing array of features built into the Tyros 5, you get a 16 track sequencer capable of recording a near limitless amount of song data, an audio recorder that can capture 80 minutes of audio per song, 60 vocal harmony and vocoder settings and much much more. The Tyros is at the cutting edge of digital workstations and re-writes the book on the level of realism that can be generated by a digital instrument.SpecsManufacturer              YamahaModelTyros 5 (76 keys)Dimensions (WxDxH)1140 x 450 x 142mmWeight30.86lbs (14kg)ColourSilverKeyboard76 Key, Initial Touch And AftertouchKeyboard Modes Sound SourceAWM Stereo SamplingInternal Sounds1279 Voices + 480 XG Voices + 37 Drum / SFX KitsPolyphony128 NoteEffects60 Types Including 23 Vocal EffectsSequencer16 Track
Demo Songs5ConnectivityHeadphones, Microphone, Aux In, Line out, Sub Out, RGB out, Foot Pedal, MIDI, USBIncluded AccessoriesAC Power Cord, Music Rest, USB Wireless LAN AdapterSize/WeightWidth 1347mmHeight 142mmDepth 450mm16.0KgControl InterfaceNumber of Keys 76Type Organ (FSX), Initial Touch/AftertouchTouch Response Hard1, Hard2, Medium, Soft1, Soft2Other Controllers Pitch Bend YesModulation YesSliders 9 (including 1 assignable), Cross FaderArt. Switches 2Display Type TFT VGA 7.5 inch LCDSize 640 x 480 dotsLanguage English, German, French, Spanish, ItalianPanel Language English
VoicesTone Generation Tone Generating Technology AWM Stereo SamplingPolyphony Number of Polyphony (Max.) 128Preset Number of Voices 1279 Voices + 480 XG Voices + 37 Drum/SFX KitsFeatured Voices Ensemble 55 S.Art2! 44 / S.Art! 288 MegaVoice 54 / Live! 138 Cool! 81 / Sweet! 37 / Organ World 40Custom Optional Wave Capacity MAX 1,024MB (Optional)Sampling Custom VoiceVoice Edit YesSound Creator/Voice Set YesCompatibility XG YesGS YesGM YesGM2 YesExpandability Expansion Voice Yes *Wave Capacity: depends on the optional Flash Memory Expansion Module (FL1024M, FL512M)Part Right 1, Right 2, Right 3, Left
EffectsTypes Reverb 52 Presets + 3 UserChorus 106 Presets + 3 UserDSP DSP1: 322 Presets + 3 User, DSP2-9: 322 Presets + 10 UserMaster Compressor 5 Presets + 5 User settingsMaster EQ 5 Presets + 2 User settingsOthers Mic effects: Noise Gate x 1, Compressor x 1, 3Band EQ x 1Vocal Harmony Number of Presets Vocal Harmony: 44, Synth Vocoder: 10Number of User Settings 60 * The number is the total of Vocal Harmony and Synth Vocoder.Vocal Effect 23
Accompaniment StylesPreset Number of Preset Styles 539Featured Styles 40 + Audio, 7 FreePlay, 441 Pro, 51 SessionFingering Single Finger, Fingered, Fingered On Bass, Multi Finger, AI Fingered, Full Keyboard, AI Full KeyboardStyle Control INTRO x 3, MAIN VARIATION x 4, FILL x 4, BREAK, ENDING x 3Other Features Music Finder 2,500 RecordsOne Touch Setting (OTS) 4 for each StyleExpandability Expansion Style YesExpansion Audio Style Yes Audio Capacity: approx. 124MBCompatibility Style File Format, Style File Format GE
SongsPreset Number of Preset Songs 5 Sample SongsRecording Number of Songs Unlimited (depends on the drive capacity)Number of Tracks 16Data Capacity approx. 300 KB/SongRecording Function Quick Recording, Multi Recording, Step RecordingCompatible Data Format Playback SMF (Format 0 & 1), XFRecording SMF (Format 0)
FunctionsRegistration Number of Buttons 8Control Registration Sequence, FreezeLesson/Guide Lesson/Guide Follow Lights, Any Key, Karao-Key, Your TempoPerformance Assistant Technology (PAT) YesDemo/Help Demonstration YesOverall Controls Metronome YesTempo Range 5 500, Tap TempoTranspose -12 0 +12Tuning 414.8 440 466.8 HzOctave Button YesScale Type 9 PresetsMiscellaneous Direct Access YesText Display Function YesWallpaper Customization YesVoices Harmony/Echo YesPanel Sustain YesMono/Poly YesVoice Information YesStyles Style Creator YesStyle Recommender YesOTS Information YesSongs Song Creator YesScore Display Function YesLyrics Display Function YesMulti Pads Multi Pad Creator YesAudio Recorder/Player Recording Time (max.) 80 minutes/SongRecording .wav (WAV format: 44.1 kHz sample rate, 16 bit resolution, stereo)Playback .wav (WAV format: 44.1 kHz sample rate, 16 bit resolution, stereo), .mp3 (MPEG-1 Audio Layer-3: 44.1/48.0 kHz sample rate, 64320 kbps and variable bit rate, mono/stereo)Time Stretch YesPitch Shift YesVocal Cancel YesMulti – Recording .aud (Tyros5 original: 44.1 kHz sample rate, 16 bit resolution, stereo)Multi – Playback .aud (Tyros5 original: 44.1 kHz sample rate, 16 bit resolution, stereo)
Storage and Connectivity
Storage Internal Memory approx. 6.7MBHard Disk Drive 500GBExternal Drives USB Flash Memory (via USB to DEVICE)Connectivity Headphones YesFOOT PEDAL 1 (SUSTAIN), 2 (ARTICULATION 1), 3 (VOLUME), Function AssignableMicrophone Yes (Combo Jack)MIDI MIDI A (IN/OUT), MIDI B (IN/OUT)AUX IN L/L+R, RLINE OUT MAIN (L/L+R, R), SUB OUT (1,2), SUB OUT (3,4 / AUX OUT)RGB OUT YesUSB TO DEVICE USB 2.0 x 2 (Front/Back)USB TO HOST USB 2.0 x 1Storage can be expanded by optional FL 512, or FL 1024 module available separately (Im listing one FL1024 separately on eBay, item number 163274637774)Included Accessories
Owners Manual, AC Power Supply, Music Rest , Two Music Rest Brackets USB Wireless LAN Adaptor TRS-MS05 2.1 speaker system (Subwoofer with 2 satellites) and all connection leads. Multi Pads
Number of Multi Pad Banks 190 banks x 4 PadsAudio Audio Link Yes
Click here to buy, and to see similar items on eBay
---
Category: Musical Instruments:Keyboards and Pianos:Electronic Keyboards
Location: Mansfield